BERLIN THINKING A STEP FORWARD. THE NEXT GRAND CHALLENGE OF THE BUA. CREATE KNOWLEDGE TOGETHER.
Berlin thinks ahead. Researches differently. More innovatively. And confronts the global challenges of our time. The Berlin University Alliance (BUA) is a consortium consisting of Freie Universität Berlin, Humboldt-Universität zu Berlin, Technische Universität Berlin, and Charité – Universitätsmedizin Berlin. The scholars and scientists of the BUA's partner institutions have come together to find answers to the major questions of the 21st century and thus to confront its global challenges – Grand Challenges.
In a joint process of participants from science and society, we are seeking to identify the topic for our Next Grand Challenge. The selected topic will be researched by the BUA scholars and scientists in an inter- and transdisciplinary approach.
We consciously rely on this open and innovative approach to topic identification and seek topics from the existing research priorities as well as from emerging and new fields of research.
We are therefore particularly curious to find out which global issues are currently of most interest to young people, researchers, and students in Berlin.
Our cooperation is divided into four phases. The entire process from the collection to the selection of topics is transparent and can be watched online. The topic collection phase ended on 31 October 2022. Subsequently, the topics were grouped into topic areas. For more details on the four phases of topic submission, please refer to the FAQs.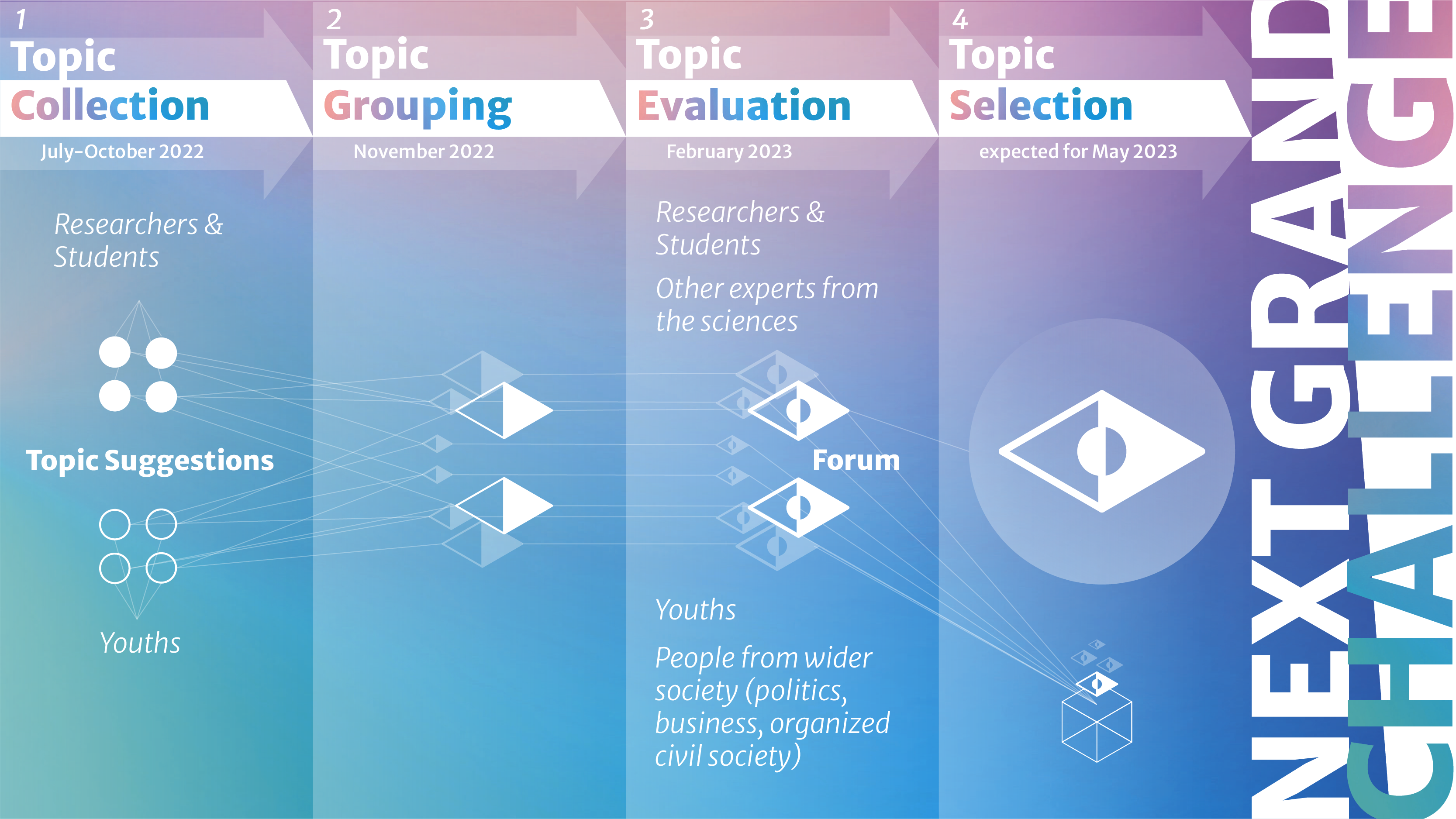 For Young People: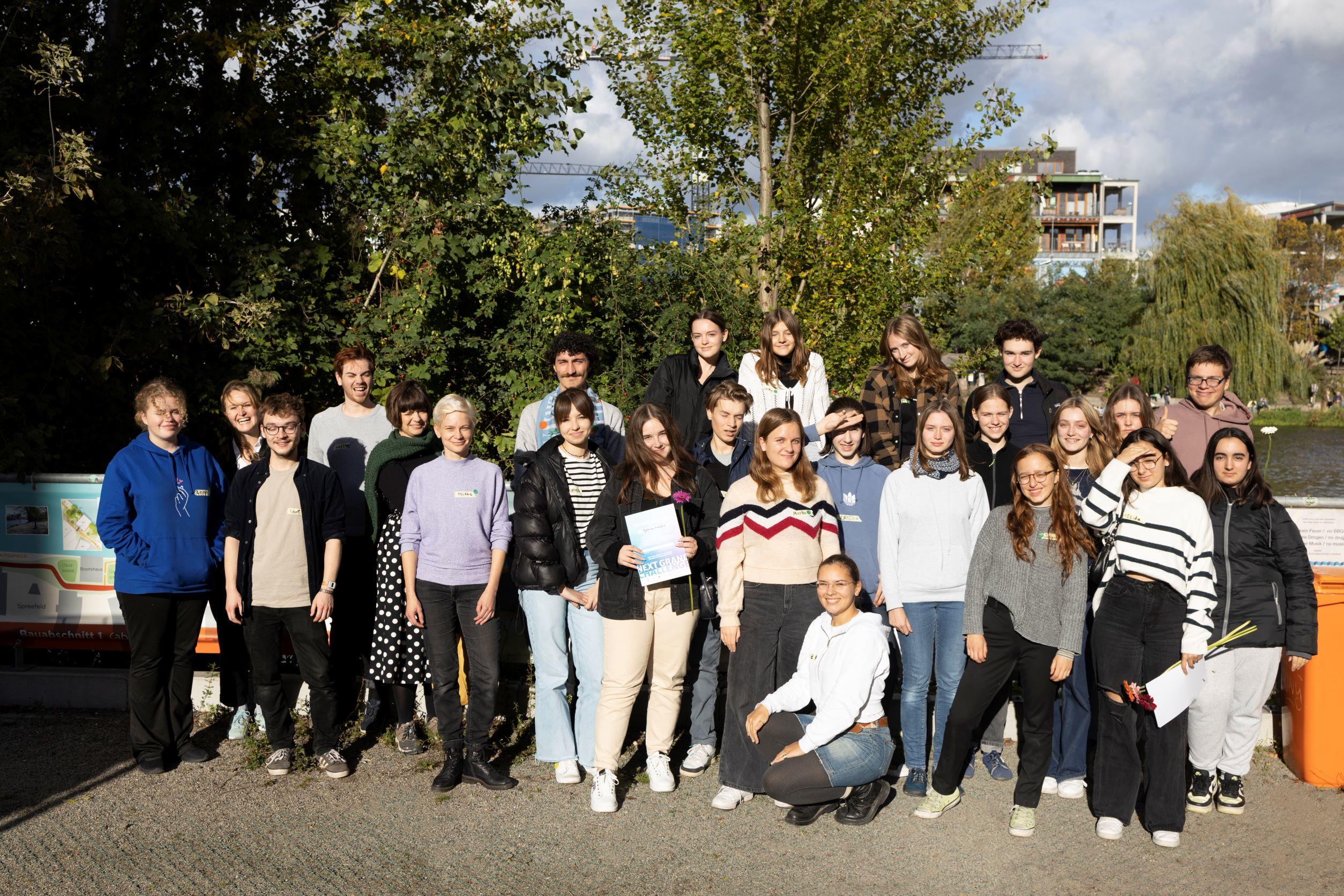 © Johannes Telgenbüscher
Impressions of Our Youth Workshops
Workshop 1 - Science and its Methodology: September 3rd and 4th
Workshop 2 - Creativity Techniques for your Future Topic: September 10th and 11th
Workshop 3 - How to Convince Others and Present Ideas: September 24th and 25th
Idea Camp - Your Next Grand Challenge Ideas: October 1st - 3rd
Topic submission: October 4th - 31st
Next Grand Challenge Forum – Joint discussion of the topic submissions: February 2023
For Researchers and Students:
Information and Networking Lunch
17 October 2022, 12-13 h
Humboldt-Universität zu Berlin, University Building at Hegelplatz, Dorotheenstr. 24, Seminar Room 1.103
Registration at: camilla.leathem@hu-berlin.de
Topic submission: July 4th - October 31st
Next Grand Challenge Forum – Joint discussion of the topic submissions: February 2023

Last open digital office hours:

Thu October 20th from 2-4 pm

Please send registrations to nextgrandchallenge@berlin-university-alliance.de
All knowledge is valuable
The film "Transdisziplinäre Forschung: Was ist das eigentlich [Transdisciplinary Research: What Is That Actually?]" explains the transdisciplinary research method simply and understandably and demonstrates the interplay of knowledge between different people from science and society in research, in the same way as it will transpire in the Next Grand Challenge.
Insights on the Grand Challenge Initiative on Social Cohesion and the Grand Challenge Initiative on Global Health can be found here: