IT IS YOUR FUTURE – YOUR TOPIC FOR BERLIN'S TOP-LEVEL RESEARCH
How can we stop climate change? How can we prevent new global health crises? Are we on the brink of more warfare? What can we do for a world that is in danger of falling apart? What positive impact can research have on your future? We want to know what issues concern you as young people in Berlin.
We are the Berlin University Alliance (BUA). The alliance is a consortium consisting of Freie Universität Berlin, Humboldt-Universität zu Berlin, Technische Universität Berlin, and Charité – Universitätsmedizin Berlin. Together, we have set ourselves the goal of finding answers to the major questions of the 21st century. How do we want to live together in the future? How do we master the major challenges facing our planet? We are interested in your opinion, in your topic.
With your help and together with researchers and students, we are looking for the Next Grand Challenge – a major issue for all of us, on which scientists from various disciplines will conduct research. Together, new topics for tomorrow's research will be selected. We are eager to hear which global issues you are currently most interested in and which solutions you are hoping for.
Our cooperation is divided into four phases. The entire process from the collection to selection of topics can be watched online.
We have planned workshops, coaching, and other special offerings for you in September and October 2022!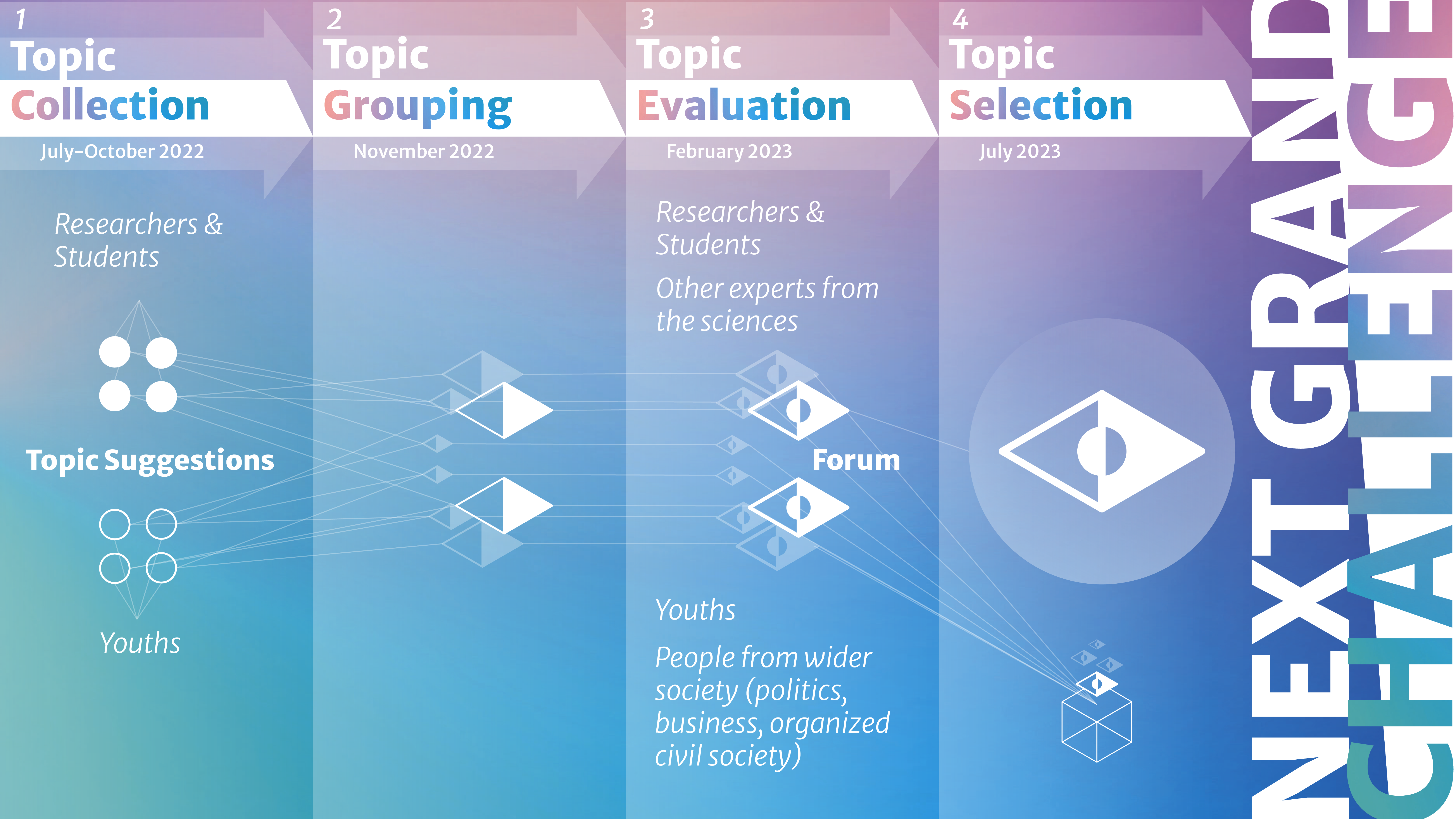 Important dates
Workshop 1 - Science and its Methodology: September 3rd and 4th
Workshop 2 - Creativity Techniques for your Future Topic: September 10th and 11th
Workshop 3 - How to Convince Others and Present Ideas: September 24th and 25th
Idea Camp - Your Next Grand Challenge Ideas: October 1st - 3rd
Topic submission: October 4th - 31st
Next Grand Challenge Forum – Joint discussion of the topic submissions: February 2023
How can I participate?
Do you want to help shape the topics for Berlin's research of tomorrow? Are you between 14 and 18 years of age and do you live in Berlin? Do you think research is important and exciting and would you like to discuss your future topics with scholars and scientists right now? Then join the search for topics for the Next Grand Challenge - the field of research to which the Berlin University Alliance will devote its entire expertise!
In an initial phase, you will be prepared in three workshops and an Idea Camp to learn about scientific topics of the future, to discuss them with scholars and scientists, and to represent your topic proposals in a forum. Then you will receive a certificate of participation from the Berlin University Alliance stating that you have qualified as a participant in the topic identification process for our Next Grand Challenge.
We want all of you to be able to participate, even if you are currently for example pursuing a part-time job, that is why we offer you an allowance of 100 euros as usual for participation projects. Please feel free to contact us.
What you can expect:
In the first workshop, "Science and its Methodology", you will learn about how science works and what exciting research topics there are right now to explore major issues in our world. In the second workshop "Creativity Techniques for your Future Topic" you will learn creative methods for developing your future topics. In the third workshop, "How to Convince Others and Present Ideas", you will learn rhetoric, argumentation, and presentation techniques – all skills you can use to discuss your topics for the Next Grand Challenge.
After that, the Next Grand Challenge Idea Camp will take place, where you will work in groups to develop your topic proposals for the Next Grand Challenge and will be supported by scholars and scientists from the corresponding subject areas.
The workshops will be conducted by team members from "mehr als lernen e.V." The program is organized by Robert Mühling (rm@mehralslernen.org).
Your ideas are invited, we are looking forward to your registration!
If you have any questions, please do not hesitate to contact Raffael Barth (raffael.barth@berlin-university-alliance.de)
Our partner: mehr als lernen e.V.
To ensure that you feel well taken care of and comfortable throughout the program, all workshops, and the Idea Camp will be moderated by the youth educators of mehr als lernen e.V, who have a great deal of experience in the conception and implementation of innovative educational programs. Your contact at mehr als lernen e.V. is Robert Mühling.
Contact
Raffael Barth, Program Manager Research Forum Next Grand Challenge
Dr. Melanie Kryst, Program Manager Research Forum Next Grand Challenge

Dr. Audrey Podann, Head of Research Forums